Informácie - Information
Grading systems in Vysoké Tatry.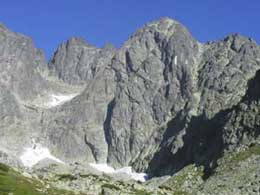 The principle of climbing is not a competition. It's not about goals, time limits, vertical meters achieved. However the comparison of particular routes comes up with the aspect of performance and this consequently serves not only as a guideline for self-estimation, but mainly for the process of choosing the route that is equal or close to maximum of physical and mental skills of each climber. Only then might be the climbing a joyful event. The grading of a route is always subjective matter. Fortunately! Selection of a suitable route is in hands of each climber. It is good to know some additional info about grading systems in other mountains. It is good to know that there was Welzenbach's system used by Puškáš and Paryski in Vysoké Tatry. This system was used until the end of 60's and it is naturally milder than UIAA system (1968), which became popular with the next generation of climbers in 70's and 80's and this generation added +/- to differentiate difficulty. Thanks to the description of routes using the topos, the original UIAA system was used for aid climbing as well. It is convenient to know not only the year of first ascent, but the author and bit of Vysoké Tatry climbing history. It is well known, that the routes of Páleníček, Drlík, Tatarka and the others are not "for free", what is considered to be difficult V, is really difficult V. The routes, that are visited less, or having only the first ascent may vary in a grade, rarely even two. The grading is usually done according to the most difficult section of the ascent, which means that two routes with the same grade will never be the same. While doing first ascents, it is necessary to have a lot of experience and not only in "home mountains", so that one can compare. In this internet guidebook we mostly use the grades of first ascents. We are trying to keep up with the new grading of routes if that was changed after several ascents, or if the ascent was accomplished in a new style. The issue however remains always purely subjective – it is and was about people and the mountains.